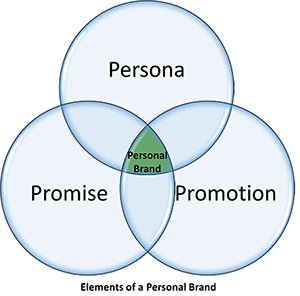 In our previous post on personal branding, my colleague Tonya Kauhi walked through how to define your persona—the qualities that make you, you. We originally intended to do this series in two posts, but realized it makes sense to break them up into three posts so you can focus on one step at a time. For this post, I'll talk about how to define your promise, and in our third post next week we'll talk about how to promote your personal brand story.
What is a promise?
When someone asks where you get your hair cut, you might say something along the lines of, "Oh, I go to this woman who works out of her home because it's a very cozy environment and she understands my hair type." Or maybe you respond, "I go to MasterCuts because it's affordable and I can walk in any day of the week without an appointment."
There's a reason we use the same hair stylist, babysitter, pet sitter, carpenter and other professional service providers again and again. While there are a number of qualified people out there with similar skills, what makes the one we choose special is the unique value that person or company provides to us.
As a geoprofessional, you also have a unique value that you bring to your clients. This is what we call your promise. Whether you're just starting out in your career like me, or further along like Tonya, knowing the unique value that you bring to clients and your team will distinguish your work from others and help your company earn work, secure your role on key projects and provide insights that can help you further your career.
How to Define your Promise
To start defining your promise, ask yourself the following questions, spending approximately five minutes on each question.
What makes you unique?
Consider your strengths and skills. What do other people say about you when they are giving you kudos or feedback? Think about the path you took to get you where you are today. Every one of us has a different background that gives us a unique way of approaching our work.
Additional questions to contemplate:
When working in a team, what role do you usually fill?
What came across as the most positive aspect of your work in your last performance review?
What are the results someone will achieve by working with you?
Think about your persona attributes that we covered in the first part of this series. How do these translate into improved work products and increased value? For example, if you are a GIS analyst and your persona attributes are creativity and willingness to work hard, those might translate into beautiful maps with a good eye for color and that you meet all of your deadlines.
Additional questions to contemplate:
Why do clients go to you rather than someone else?
What do you do differently than others in your profession?
What personality characteristics make people interested in you?
Think about your passions, personal history, and what you do for fun. Do you volunteer for an important cause? Have you traveled the world? Are you hoping to change the world? Do you have a background in a field unrelated to your job?
Additional questions to contemplate:
What drove you to your career path?
What makes you stay in your career?
Next Steps
Next week we'll post our third and final segment of this series on how to combine your persona and promise to promote your personal brand. If you want to get a jump start on that, or work the first two step in more depth, you can download the workbook Mapping your Unique Value: a Roadmap to Personal Branding (PDF – 565KB) that Tonya and I put together along with our co-presenter Amber Raynsford of The Watershed Company for a recent workshop at the 2014 Washington GIS Conference hosted by the Washington State Chapter of The Urban & Regional Information Systems Association (WAURISA). You can also see our slides from the workshop.
If you want to hear about this topic in person, Tonya is presenting on it this September at GeCo in the Rockies 2014.