A large group of GeoEngineers staff attended the Women's Transportation Seminar (WTS) Annual Scholarship and Awards Gala on March 1. GeoEngineers has a strong relationship with WTS, a professional organization promoting women in the transportation industry, and our staff have volunteer roles in several regional chapters.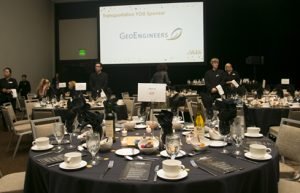 The gala has become one of the premiere transportation events in the region and attracted all the major Puget Sound firms. Senior Geotechnical Engineer Whitney Ciani is the co-chair of WTS Puget Sound's Transportation YOU program, which works to introduce young women from local high schools to transportation careers. In November, Whitney worked with WTS and Washington State Ferries (WSF) to plan and execute a field trip on a ferry. Students from Franklin and Sammamish High Schools heard WSF Chief of Staff Elizabeth Kosa and WSF Director of Terminal Engineering Nicole McIntosh talk about their responsibilities and other careers in transportation. The students also climbed aboard for a behind the scenes tour of the Wenatchee ferry boat, and GeoEngineers helped document the trip and produce a video that was shown at the gala.
GeoEngineers also sponsored the gala, and several staff members participated in the evening's program. Women are a critical part of the future of transportation and the larger engineering industry. GeoEngineers is proud to support WTS as they, and the women and girls they represent, continue to push the industry forward.