When someone asks what you do for a living, what do you say?  Can you clearly define what you do? How do you communicate your value and set yourself apart from other engineers, scientists, technologists and professionals?
You do this through your personal brand.  Your brand is your reputation. It matters because it's the secret to describing your key attributes, defining your unique value, and telling your story. Having a personal brand is essential for explaining your value and the applicability of your skills and expertise. This is especially true for complex and technical disciplines, like those in the geoprofessional industry, where it can be difficult to explain one's profession without glossing over your specialization or burying it in technical jargon.
Until I attended a webinar on this topic by Coach and Leadership Development Consultant Pat O'Malley, I had never thought about personal branding in the context that everyone could do this, not just CEOs. Taking what I had learned from O'Malley's webinar, I worked on developing my own personal brand alongside my boss, Director of Applied Technology Darrin S. Farmer, and colleague, GIS Analyst Christina Gonzales. We collected some lessons learned that we want to share with other geoprofessionals.
Where to Start in Personal Branding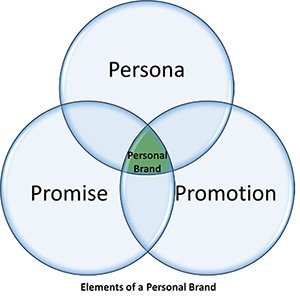 We typically have less than 30 seconds to make a memorable impression on someone. Every interaction is an opportunity. Whether you're a GIS analyst, geotechnical engineer, geologist, hydrologist, CAD technician, or one of the many other professions within our industry, knowing your personal brand is key to being able to clearly explain what you do and why you do it the best.
So how do you start defining and talking about your personal brand? Begin with:
Defining the key attributes that describe you. This is your Persona.
Describing what distinguishes you from your colleagues. This is your Promise.
Developing brand advocates and finding opportunities to tell your brand story. This is known as Promotion.
For this post, I'll talk about how to define your persona. In a follow-up post, my colleague Christina will cover the topics of promise and promotion.
How to Define your Persona
A persona describes who you are and the qualities that make you, you. This includes your attributes, characteristics, vision and values. To start defining your persona, ask yourself the following questions.
What are your strongest attributes (list 3 to 5)?
For example, what was the most successful project you ever tackled, and what made it successful? Was it your time management skills, your willingness to delegate and empower colleagues, or maybe it was your stellar communication skills that contributed to the project's success?
Additional questions to contemplate:
What was the most important team role you ever fulfilled and why?
What strengths do others acknowledge in me?
What am I passionate about?
If you had an extra day off every week, consider what you would do with it. Would you learn something new, spend time outdoors, or travel?
Additional questions to contemplate:
What type of people or activities are you drawn to?
What kind of news stories captivate your interest?
What motivates me?
Think about when you are faced with an obstacle. What is your go-to skill to overcome it?  Do your creative talents pull you through, do you gather a team and brainstorm solutions, or do you buckle down and figure it out?
Additional questions to contemplate:
What type of projects does time fly while working on them?
What types of projects or tasks do you avoid?
After working through these questions, you should have a fairly complete list of your strengths.  Don't worry about perfect answers, the important thing is to start defining your strongest attributes.
As you work through building your personal brand you can refine your persona and start seeing how it relates to the value you provide to others who work with you.  As Benjamin Franklin said, "There are three things extremely hard: steel, a diamond and to know one's self."
Delivering your personal brand clearly and consistently creates memorable interactions with colleagues and clients, and can potentially open doors to new opportunities.
Next Steps
If you want to get a jump start on defining your promise and how to promote your personal brand, you can download the workbook Mapping your Unique Value: a Roadmap to Personal Branding (PDF – 565KB) that Christina and I put together along with our co-presenter Amber Raynsford of The Watershed Company for a recent workshop at the 2014 Washington GIS Conference hosted by the Washington State Chapter of The Urban & Regional Information Systems Association (WAURISA). You can also see our slides from the workshop.
If you want to hear me speak about this topic in person, I'll presenting on it this September at GeCo in the Rockies 2014.