By Olivia Hunt
Olivia Hunt is a senior civil engineering student at Louisiana State University (LSU). Over the summer, Olivia has worked hard as an intern in GeoEngineers' Baton Rouge office. Olivia shared her thoughts on the internship, industry and GeoEngineers in the blog post below. See our Students and Graduates page to find out more about GeoEngineers' internship program.
---
Growing up bouncing between Louisiana and California, I developed an appreciation for the environment. With both of my parents in the STEM field, I always had an interest in understanding what my parents were doing. At a young age, I remember looking over my parents' shoulders, seeing them working with integrals and derivatives, and thinking, "one day I will learn to understand this." My parents encouraged me to participate in classes and extracurriculars that made me use critical thinking and problem solving, and I absolutely loved it.
Today, I am a civil engineering student at LSU eager to determine what to focus on for my master's program. Struggling to decide between geotechnical and structural, two very different paths, I saw a summer internship as a way to step into the life and see what it would be like to work in one of those fields. I came across GeoEngineers while looking for geotechnical firms in the Baton Rouge area, and I loved that they frequently work on coastal restoration and marsh recreation projects. I also remembered Alicia Sellers, who is currently an engineer at GeoEngineers and was the past American Society of Civil Engineers (ASCE) president when I was a freshman. One day after an ASCE meeting, I was able to speak with Alicia about her time at the firm. She had so many great things to say, and I loved the idea of getting to spend time in the office, lab and the field. From there, I began my summer internship at GeoEngineers in Baton Rouge, ready for an immersive experience!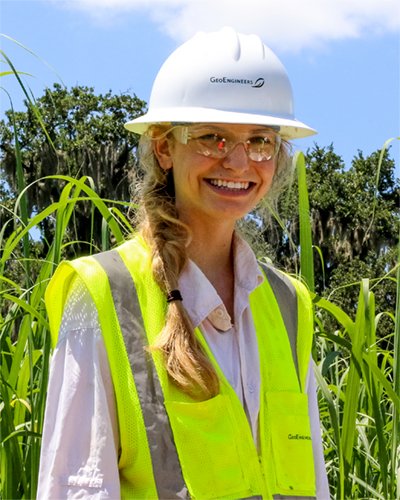 My time in the office has given me exposure to a wide variety of geotechnical engineering work. From reconstruction of consolidation reports to checking log borings, I was able to sample a few of the many tasks that geotechnical engineers work on from day to day.
Learning to use SLOPE/W (a leading slope stability software) was one of my favorite experiences of the summer. I love to rock climb in my free time, specifically bouldering, and I realized how changing the different parameters within SLOPE/W to achieve a certain factor of safety was closely related to the strategy and problem solving that I use when I'm on the wall. The first day I used SLOPE/W I spent hours at home reading the online manual discovering more of what the program could do, and it was fascinating.
Before I went into the field, I learned how to classify soils and different processes of testing samples under the guidance of the engineers and lab staff. Seeing different layers of a sample and understanding how and when that layer was formed is an incredible process. It provided me with a greater insight into the engineering work I had been doing in the office. Discovering shells or other unique materials in the samples lead me to look deeper into how, why, and when these objects were deposited. I have always loved rocks—growing up I kept a plastic purple box under my bed to store my collection. I felt my old instincts kick-in, urging me to see what type of material it is and wanting to learn more in the lab.
During my time at GeoEngineers this summer, I was also able to go out into the field and observe pile driving and get hands-on experience logging borings. This past semester I took a deep foundations class which dealt mostly with retaining walls and piles. It was eye opening to see the process of pile driving and the real-life aspect of what you learn how to do on paper being brought to fruition. I also learned practical designing specifications and how real-life geotechnical projects are not as simple as what you learn in the classroom. I have a much deeper appreciation whenever I drive by this project, because I was able to see the process to create the overpass.
At the end of my summer internship I knew I had made the right decision. I've acquired a lot of knowledge in a short period of time. All the engineers and staff that I had the opportunity to work with spent time explaining not only how to do a task, but the reason behind why we were doing it. Having such a deep appreciation for the environment, I was able to work alongside individuals who are involved in the restoration of Louisiana's fragile ecosystem. I am planning to continue taking geotechnical electives this semester and to research concrete designs for artificial barrier walls and reefs to mitigate coastal erosion and restoring our coast.