Environmental engineering is a fantastic field for women who want to innovate and develop solutions that protect the environment and improve living conditions to make the world a healthier place. Science and engineering have always been important in my life, but when I started in this field there were very few women. I am gratified to see how much the profession has diversified over the past three decades. Women who enter this field now will enjoy being amongst many other women peers—it is an exciting time!
June 23 is International Women in Engineering Day, and it's the perfect opportunity to celebrate the achievements of women in a traditionally male-dominated field and challenge the next generation of women to chase their own engineering dreams. While each person's journey will be unique, I hope my own experiences offer some inspiration to empower you to consider a career in engineering, science, or another STEM field.
When I was growing up, math was one of my favorite subjects even though I wasn't sure exactly how it would evolve into a rewarding career. But I was persistent in what I loved to do, so I kept going and completed an undergraduate degree in math. As it turned out, I graduated in the middle of a severe economic downturn in the US. The job market was very tough with few employment opportunities for new graduates.
One of my aunts, who happened to be a science teacher, suggested that I look into volunteering with the Peace Corps and get a chance to travel and acquire work experience. I always knew I wanted to leverage the privilege of my good education to help others, and the Peace Corps seemed like a good opportunity to do just that. I planned on teaching math, but once my assignment came through I was asked to do what was needed most in that place at that time —and so I embarked on a two-year adventure as a science teacher in Botswana.
Teaching in Serowe Village was a life-changing experience. The village is situated at the edge of the Kalahari Desert where access to clean water was a pressing need. I got to witness science and engineering directly improve people's lives when a group of Swedish geologists and hydrogeologists arrived to install wells and provide the village with abundant, clean water. I realized that science and engineering had incredible power to bring about positive change and improve the daily lives of individuals and communities.
Returning from my Peace Corps service, I was inspired to continue helping people and thought engineering would be the perfect way for me to do that as a natural extension of my math interests. I decided to pursue a master's degree in civil engineering. It was an exciting time for me, but also very challenging. In 1987 there were so few women in my university's engineering program, I could practically count the number on one hand. Being part of a gender minority didn't discourage me; rather, as women students we were persistent in our passions and we ended up becoming a close-knit group who supported each other and learned together.
After completing my degree, I launched a consulting career at GeoEngineers beginning in 1990. In the early 1990s, environmental awareness and environmental protection were taking off and environmental cleanup regulations had recently been established in the state where I lived. The new regulations created uncertainty for businesses and clients who grappled to understand the implications and cost of complying with these new regulations. The role of a consultant is to help clients comply with regulations by finding practical and cost-effective solutions that help their businesses while also improving and protecting the environment. As it turned out, the timing of these new regulations created a myriad of exciting and challenging opportunities to put my education and passion to good use.
In those early years I faced my fair share of challenges, but looking back I see how being persistent is a strength that leads to resiliency. It was a great help to have mentors and role models who guided me along the way. One such person was Jim Miller, the company's president at the time. Jim taught me how to be a great consultant and he shared invaluable insight into the business side of engineering. My peers also played a crucial role, as women in the field we again learned together and supported each other. The importance of mentorship and peer networks cannot be overstated, especially for women in engineering. Even though there is more diversity now than 30 years ago, there is plenty of room for improvement.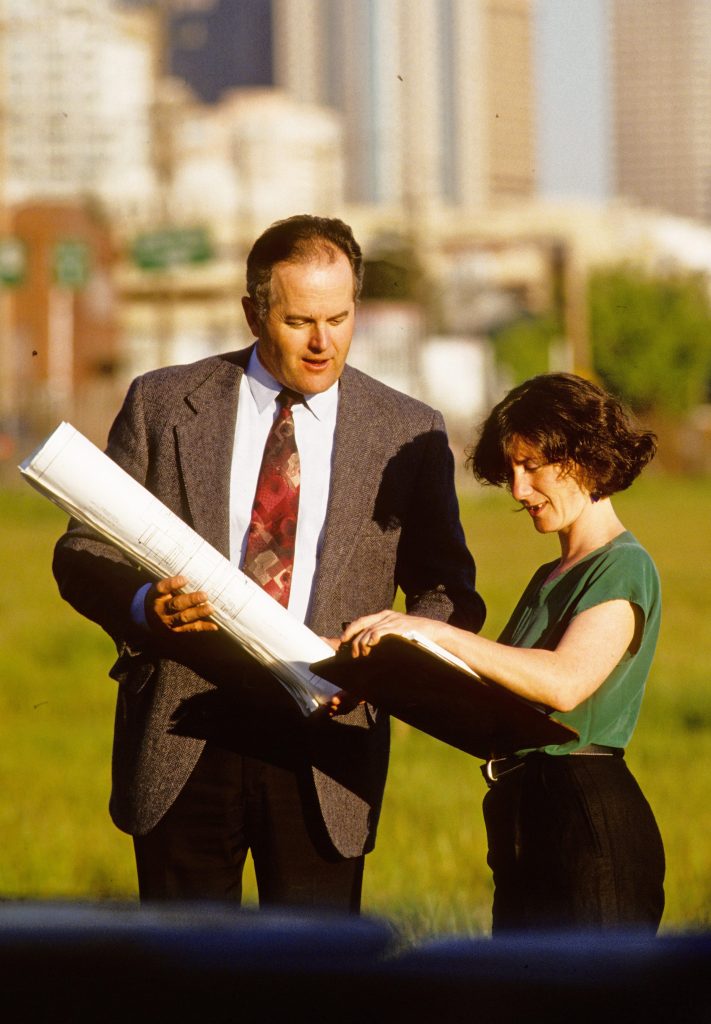 Reflecting on my journey, I believe that my company GeoEngineers consciously created a supportive work environment for women and worked hard to foster a culture where individuals from diverse backgrounds and perspectives can grow and thrive. Witnessing the success of women in the industry, both within my company and among our clients, has been one of the most joyful parts of my career.
So, what makes my career in engineering so meaningful? I wanted to use my STEM interests to make lives better, even in small ways. Engineering provided me with a platform to do just that. It's not just about the technical aspects; it's about using our minds and skills to create solutions that improve the world around us.
Engineers make a difference. We offer solutions to critical challenges from clean air and water to sustainable infrastructure. Engineering provides opportunities to contribute to society, enhance lives, and safeguard our environment. Working in consulting at GeoEngineers has given me the power and opportunity to change the world—literally and metaphorically!
To all the kids, students, or adults considering a career in engineering, my advice is simple: be persistent. Stick with what you love, reach out to professionals in the field to ask questions, and learn as much as you can about the multitude of possibilities available to you. Step outside your comfort zone and be proactive as you discover what truly excites and inspires you.
Joining professional groups of women in engineering can also be incredibly powerful. Surround yourself with like-minded individuals and seek out mentors who have walked the path before you. And to those of us who have gained experience in the profession, it's our responsibility to give back, share our knowledge, and showcase the endless possibilities that lie ahead. Engineering offers a chance to make a difference, solve complex problems, and forge a path that aligns with your passions and values. No matter who you are, I encourage you to embrace the challenges and dare to pursue your dreams. Our world needs bright minds like yours, and together, we can engineer a better future for all. Happy International Women in Engineering Day!