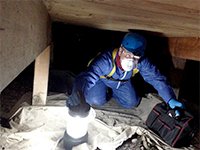 Soil and groundwater contaminated with volatile chemicals, such as fuels and cleaning solvents, can threaten the health of people in homes or other buildings above or near the contamination. Typical sources of volatile chemicals include gas stations, dry cleaners, underground storage tanks and other industrial sources. These forms of contamination bring many problems, but when it is concentrated below or near a building there is an additional hidden threat in the form of a phenomenon known as vapor intrusion. Here's what you need to know about the potential threat caused by vapor intrusion.
Vapor intrusion refers to the potential for volatile chemicals to become vapors, and migrate from the subsurface to find their way into structures above. Potentially dangerous vapors can easily go unnoticed by occupants of a home or building. The threat varies significantly based on a number of variables, but in some cases these vapors can build up in structures and reach levels high enough to cause:
Unpleasant smells.
Acute (short-term) health effects
Chronic (long-term) health effects.
Immediate safety hazards such as explosion risks.
People who live or work in a building above or near an underground source of volatile chemicals may be at risk of exposure to varying levels of these chemicals in indoor air. GeoEngineers is a leader of new technology and techniques to evaluate the risks of potential vapor intrusion and recommend steps to protect tenants and employees when chemical intrusion is already occurring.
It's important to realize that the vast majority of homes and businesses are not at significant risk from chemical vapor intrusion because they are not located above or downgradient from a source of volatile contamination. If you know or suspect that contaminated soil or groundwater exists near your commercial  property, GeoEngineers can assist you in understanding your risks.
Land developers, investors and owners should also be aware of the potential for vapor intrusion as they consider the risks of purchasing and developing properties. GeoEngineers can provide environmental professionals with vast experience in vapor intrusion investigation, assessment and mitigation.  We can provide the expertise to save you time and money in any project phase involving vapor intrusion risk.