Our construction design team played a critical role in the Massachusetts Bay Transportation Authority's South Coast Rail program, an ambitious effort to extend commuter rail service from Boston to southeastern Massachusetts that is under construction right now. Miles of track once used to transport freight are being renovated and expanded for passenger use.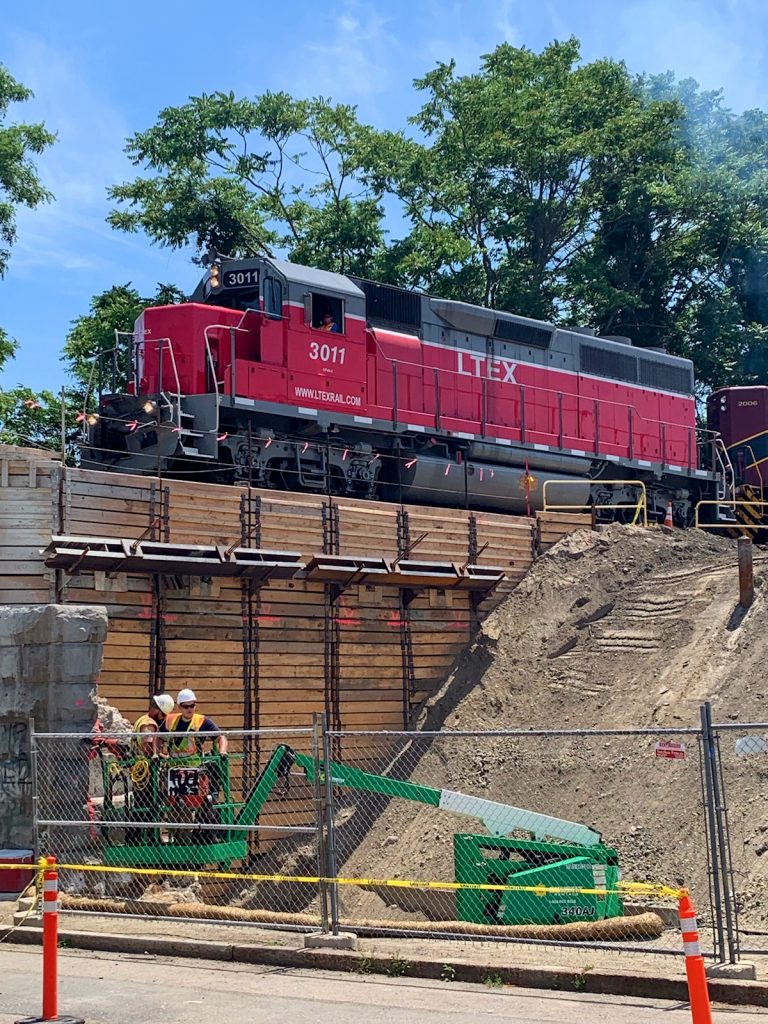 Yelena Bronshvayg, Heidi Cashman, Dimitrios Palantzas, James Clark, Tony Pungitore, and GeoEngineers' construction design team provided a range of construction design services up and down more than 36 miles of track, including support of excavation (SOE) designs, temporary and permanent retaining walls, pick plans for crane operations, and even calculations for accelerated slide-in bridge construction.
The railway bridge under construction at Pearce Street in Fall River, Massachusetts, is an excellent example of the physical constraints and complex shoring designs required for this project. The team had to design a 25-foot tieback wall to support half the existing bridge during construction, and it had to withstand live train loading directly above. The solution was a micropile and contact lagging wall supported by one level of tiebacks—and built just 21 inches away from the active rail line.
"With these narrow alignments, we have to get creative to fit everything into such an absolutely tiny space," says Project Manager Dimitrios Palantzas.
Construction on South Coast Rail is already well underway, and passenger service is expected to begin by the end of the year.