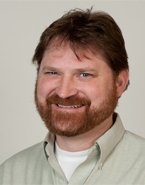 The Business Examiner Media Group has named Eric Heller, PE, LG, geotechnical engineer in GeoEngineers' Tacoma office, for its 40 Under Forty Program class of 2012. The Business Examiner Media Group (BEMG) serves readers in Tacoma and Southwest Washington State with business-oriented print and online publications. 40 Under Forty is one of five leadership recognition programs the group produces annually to highlight and celebrate the region's leading individuals and companies. BEMG will celebrate the 2012 class honorees at a reception to be held August 1, 2012, and will feature them in a special August 6 print edition of the Business Examiner.
Eric was nominated for 40 Under Forty by Amy Condon of Welch & Condon and president of the Young Professionals Network of Tacoma-Pierce County (YPN). Eric is the vice president and president-elect of the YPN Board of Directors for 2012-13. In nominating Eric, Amy wrote, "Eric is always one of the first people to volunteer to help with something and is trustworthy and loyal."
Amy cited Eric's dedication to the engineering profession and his volunteer work as president of the board of the DASH Center for the Arts, which provides performing arts instruction, education and mentoring to underserved and lower-income families in Tacoma and Pierce County. He is also involved in Project:U, a program of United Way of Pierce County that encourages young adults to engage in fun volunteer projects that benefit their community.
Eric served the engineering profession as president of the ASCE-Seattle Geotechnical Group from 2007 to 2008. He also contributes his expertise to the City of Tacoma EnviroHouse, the area's only permanent green model home showcasing green building and natural landscape ideas, materials and techniques. Working with client firms McGranahan Architects and PCS Structural Solutions, he recently helped build an informational kiosk display for the house.
In reflecting on the 40 Under Forty award, Eric commented, "I'm honored and humbled to receive this honor and looking forward to meeting the other 2012 class honorees at the reception event. It's nice to be recognized for my contributions to making the South Sound a great place to live."