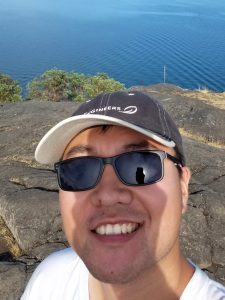 When Roger Chang began his undergrad studies at the University of Washington Tacoma (UWT), he was thinking about entering the medical field. Not sure it was the career for him, Roger was inspired to switch to environmental science by UWT professors and mentors he respected. It paid off in ways he didn't expect, and today Roger has found a new way to care for his community–as an Earth Doctor.
"I truly fell into this line of work, specifically environmental science, during my undergraduate study at UWT," Roger says. "My professors at UWT gave me the opportunity to expand my knowledge and guided me. Their support and the opportunities they gave me allowed me to discover this type of work."
Today, Roger works for us at GeoEngineers as an environmental scientist, and instead of caring for people directly, he helps repair damage to the earth. As a key member of the Point Defiance Waterfront Team, Roger helped restore a historically contaminated site, turning it into a public park on the shore of Point Defiance Park in Tacoma, Washington. Along with others on the GeoEngineers team, Roger was recently featured in an ad in Alaska Airline's in-flight magazine that tells the story of the Point Defiance Waterfront Project.
"I get to help diagnose problems with the environment," Roger says, "and find treatments or cures to help restore the environment to good health for everyone to enjoy!"
There's far more to the story. Find out more about Roger, and learn about the transformative work at Point Defiance Park.