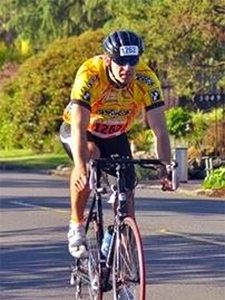 GeoEngineers' employees in the Redmond, Seattle and Tacoma offices enthusiastically celebrated National Bike Month all during May. In the company's fifth annual Bike to Work Commuter Challenge, teams from the three offices engaged in a friendly rivalry to see which office could cycle the most commuting miles and make the most bike commuting trips during the month. 29 employees participated in the challenge.
The most avid GeoEngineers bike commuter was Seattle's Robert Trahan, who clocked a whopping 593 commuting miles.
Tacoma's Scott MacDonald logged the highest number of one-way trips for the month, with 44 trips.
By May's end, GeoEngineers' Tacoma team scored the most one-way trip reductions with 269 trips, while Seattle logged 184 and Redmond logged 128.
The Seattle team beat the Tacoma team in number of total commuting miles, logging in 1,526 miles. The Redmond team came in second with 955 miles, while Tacoma racked up 860.
Bruce Stirling, a senior project manager and biologist, led the challenge and helped organize two Tacoma Office bicycling events during the month. "We've seen a rising number of cyclists here at GeoEngineers and in downtown Tacoma. It all creates great energy that inspires others to ride, too," he commented, adding, "Bike Month helps our company. Employees engage in a friendly competition and are happier and healthier and, as a result, more productive. Biking also ties in nicely to the wellness initiatives we are developing at GeoEngineers, as people who bike tend to have fewer sick days. And wellness contributes to a higher retention rate of motivated, high-quality employees."