GeoEngineers provided geo-structural design services for four massive vertical shafts under construction right now in Alexandria, Virginia. These shafts—the largest of which is 72 feet in diameter and 160 feet deep—are part of the city's new $655 million sewer and stormwater system, RiverRenew.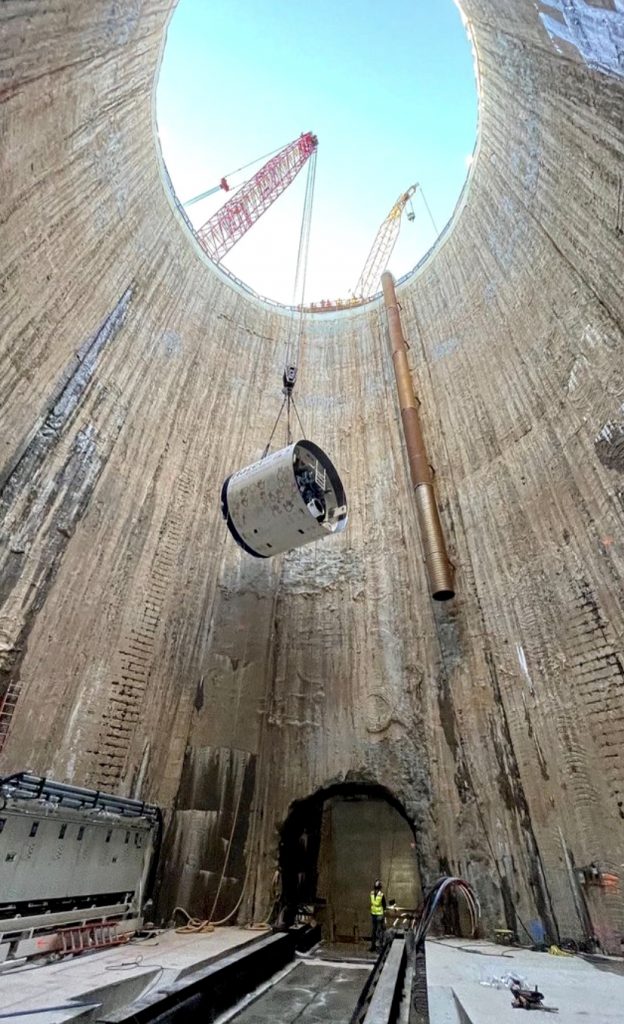 Alexandria's aging sewer infrastructure was built in the 1800s and, when overwhelmed with stormwater, regularly discharges sewage directly to the Potomac River. The project will correct these issues with the addition of two diversion facilities, two high-capacity underground pump stations and a two-mile-long, 12-foot-diameter tunnel that can convey and store up to 12 million gallons. The two 160-foot-deep shafts pictured here will initially be used to stage and launch the tunnel boring machine. Once the system is complete, the 40-foot shaft will screen stormwater and the larger 72-foot shaft will pump water up to the surface for treatment.
In Summer 2021, a GeoEngineers construction design team including Dimitrios Palantzas, Yelena Bronshvayg, Collin Sweeney, and Tony Pugitore began working on structural designs for four slurry-wall shafts as a subconsultant to Keller North America. In addition to the main shaft designs, the team designed Soldier Pile Tremie Concrete (SPTC) SOE systems to facilitate the excavation and construction of the proposed near surface structures that connect to the main shafts. These "near" surface structures extend up to 45 feet below ground and required two to three levels of internal steel bracing.
As you can see from the photos, construction is now well underway on the pumping and screening shafts. Contractors have excavated the main pumping and screening shafts to a depth of about 140 feet and tunneling operations are set to begin in October. The entire RiverRenew Tunnel System is expected to be complete sometime in 2025.