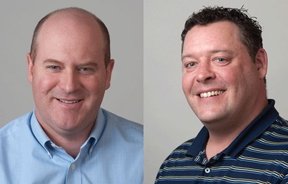 GeoEngineers is pleased to announce that geotechnical engineers Matt Smith, PE and D.J. Thompson, PE have been promoted to Principal and Associate, respectively.
Smith, who joined GeoEngineers in 1995 and works from GeoEngineers' Redmond office, is a recognized leader in the Puget Sound development market. His technical specialties include innovative shoring systems for high-rise urban structures, deep foundations, seismic design and urban redevelopment projects. Smith's recent Seattle projects include geotechnical design for the Bill & Melinda Gates Foundation Headquarters campus, Virginia Mason Medical Center Jones Pavilion and Olive 8.
Thompson joined GeoEngineers in 1996 and is a geotechnical group manager in GeoEngineers' Tacoma office. He has been a key figure on multiple South Sound development and transportation projects, including the University of Washington Tacoma campus expansion, MultiCare hospital facilities and upgrades to the Port of Tacoma.
"Achieving these positions is a testament to Matt and D.J.'s exceptional performance over a sustained period of time," said Dan Campbell, GeoEngineers' COO. "Both Matt and D.J. have made significant contributions to GeoEngineers and the Puget Sound community, and their promotions are well-deserved."