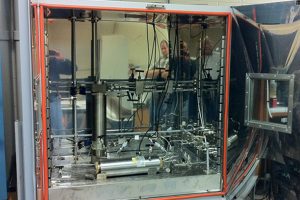 GeoEngineers' in-house laboratory in Baton Rouge, Louisiana has earned certification from the United States Army Corps of Engineers (USACE). This adds to the American Association of State Highway and Transportation Officials (AASHTO) and ASTM International—formerly known as the American Society for Testing and Materials (ASTM)—laboratory certifications that the office earned in 2012.
To meet USACE-certification standards, GeoEngineers added a five-inch diameter soil sample extruder to its laboratory equipment. As an USACE-certified laboratory, GeoEngineers can now work directly for the USACE on coastal projects and continue to work on any other projects related to levees or other areas under USACE jurisdiction. The certification process took several months and involved demonstrating that GeoEngineers' Baton Rouge laboratory met ASTM as well as AASHTO standards. Now all of GeoEngineers' sampling and testing methods are verified to meet all three standards.
"We have been working with the USACE for many years on coastal restoration projects as well as projects that required pipelines to cross levees. Now that our lab is USACE certified, we can not only collect soil samples in the field to USACE standards, we can also test them in our own laboratory," explained David S. Eley, PE, Principal in GeoEngineers' Baton Rouge office.
New Laboratory Hood Expands Foundation Design Capabilities
In addition to the large diameter soil sampling GeoEngineers added to laboratory protocol for USACE-certification standards, the company expanded its laboratory services by adding a ventilated hood to its facility. This hood allows GeoEngineers to test the strength of soil samples for foundation designs at contaminated sites. According to Eley, this capability will benefit GeoEngineers' industrial clients and allow more opportunities to team with other companies to provide foundation designs for Louisiana's expanding industrial plant construction. "We expect the new certifications and equipment to help us expand our existing base load of work as well as give us the opportunity to bring in new clients," commented Eley.