An innovative GeoEngineers directional microtunnel project for Tennessee Gas Pipeline Company, LLC, which was recently featured in a special supplement of Trenchless Technology magazine, won the Grand Conceptor Award for the best overall project in the American Council of Engineering Companies (ACEC) of Missouri's 2014 Engineering Excellence Competition. The project, which was part of a larger pipeline system upgrade to serve the growing demand for interstate natural gas transmission service in the Northeast, was a series of firsts not only for Tennessee Gas and GeoEngineers, but also for the field of trenchless design.
The project site near Matamoras, Pennsylvania, was confining and had difficult geological conditions, but Tennessee Gas needed to cross Interstate 84 and US Highway 6 at that specific location due to environmental and regulatory requirements. Traditional trenchless installation methods were not feasible at the site, so GeoEngineers' trenchless design team from Springfield, MO, drew on its experience with Direct Pipe™ technology, which had only been used on 10 pipeline installations worldwide at the time of the project. GeoEngineers' design team combined the thrusting technology of the new Direct Pipe approach with the short interlocking segments of Permalok pipe to create a steerable, directional microtunnel. This approach yielded a continuously cased trenchless installation with much shallower entry and exit pits then would have been required by a conventional, straight microtunnel.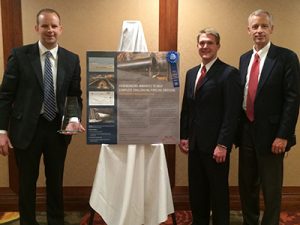 In addition to GeoEngineers being the first to design a Permalok casing pipe installation using Direct Pipe, the trenchless design team also developed a new methodology for curved, jacked steel pipe by incorporating conventional microtunneling design theory with API steel design code. Construction on the 30-inch-diameter, 470-foot crossing took a month to complete, allowing Tennessee Gas to construct the rest of the pipeline system as planned.
The successful Tennessee Gas pipeline installation demonstrates it is possible to conduct reliable engineering design and stress analyses for Direct Pipe crossings using the design procedures that GeoEngineers developed. In attendance to receive ACEC Missouri's Grand Conceptor Award for GeoEngineers were Springfield Geotechnical Group Leader Jon Robison, PE, Geotechnical Engineer Rob Hotz, PE and South Principal Business Unit Leader and Board Chair David Sauls, PE.