Puget Sound Energy is preparing to open its Tacoma Liquefied Natural Gas facility early in 2021 after nearly 10 years in development. GeoEngineers has been a critical part of the project team, providing both geotechnical and environmental services for the Tacoma, Washington facility. PSE is completing final instrumentation and testing work before processing the first order of LNG.
The facility will process and store eight million gallons of LNG for use as marine transportation fuel by TOTE Maritime, a commercial shipping company running routes from Tacoma to Alaska. LNG will help TOTE reduce air emissions and poses less environmental risk if spilled. PSE can also load the stored LNG into trucks or convert LNG back into gas to supplement the regional energy supply during cold days and times of high demand, a process known as peak shaving.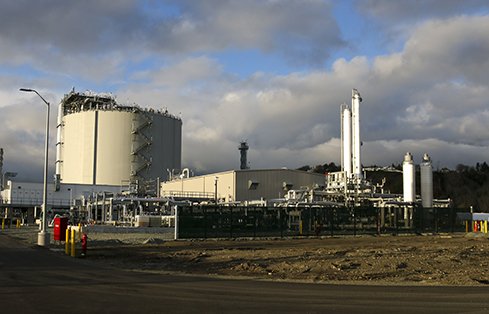 The facility's location, on a tidal flat at the Port of Tacoma, posed a formidable geotechnical challenge. The team, led by Morgan McArthur and Dave Phelps, assessed foundation options, and ultimately recommended a massive ground improvement plan. In total, it called for almost 2,500 36-inch auger-cast piles, extending up to 100 feet underground.
Engineering services also included seismic risk analysis and site-specific ground motion modeling by GeoEngineers' performance-based engineering team. Stormwater management was critical, thanks to the shallow water table and strict permitting requirements. The team worked closely with PSE and the LNG designers to complete geotechnical investigation, engineering analysis, environmental analysis, permitting support and material-management plans.
For more on this fascinating and technically challenging project, jump to the full project profile.