A group of GeoEngineers staff from our Portland office, including Greg Landau, recently attended the American Public Works Association (APWA) Oregon Spring Conference 2016. We asked Greg to give his impressions on APWA Oregon and the trends and topics most on the mind of presenters and attendees this year.
Q: What themes or industry trends did you pick up on during the conference?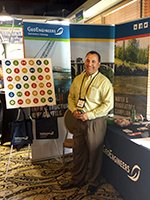 Julio Vela from our Portland office also attended APWA Oregon.
A: The theme of this conference was disaster preparedness and resiliency. The primary disaster considered during the conference was a large subduction zone earthquake, but many of the concepts can be applied to other disasters we face in the Pacific Northwest.
One of the interesting statistics mentioned was that for every $1.00 you spend before a disaster, you would need to spend $4.00 after a disaster to get the same result. This highlights the economic importance of planning and preparing for a disaster, not to mention the lives that could be saved by proper planning and preparation.
Disaster preparedness should be taken especially seriously by coastal communities and agencies that manage lifeline structures such as fire and police departments, hospitals, and transportation infrastructure.
The Oregon Resilience Plan is a really good place to start to understand how Oregon's communities and infrastructure will be affected during a major natural disaster. It outlines the state's plan to support disaster preparedness, but communities still need a legislative directive and funding to help make this movement a reality.
Q: Do you think this will change the industry?
A: I think this movement has already changed how we think about design and construction. In recent years examples such as the tsunami in Indonesia, the earthquake in Japan, and research in the state of Oregon that shows we are at a significant risk of a large subduction zone earthquake have put a magnifying glass to our own preparedness. However, without adequate funding, the professionals involved in planning, designing, constructing, and maintaining our infrastructure cannot affect the change needed.
Q: What's the biggest challenge in becoming more prepared?
A: The biggest challenge for disaster preparedness is funding. There is FEMA funding for post-disaster recovery, but not nearly enough for preparedness planning and implementation.
Sources of funding available for disaster preparedness in Oregon include: