The Idaho Transportation Department (ITD) recently wrapped up the SH-3 Goosehaven project, where lightweight fill and creative geotechnical engineering allowed a highway to be widened next to a riverbank in northern Idaho. A GeoEngineers team led by Braydan DuRee and Dave Lauder helped ITD widen about three miles of SH-3 along the St. Joe River near St. Maries, Idaho. This stretch of SH-3 sits directly on a levee that separates the river from adjacent farmland, creating extra geotechnical challenges.
The heavily trafficked two-lane highway is the main artery between St. Maries and I-90 to the north, but the narrow road had no shoulders and many steep slopes down to the St. Joe River. To improve safety and increase transportation capacity, ITD set out to widen SH-3 by 11 feet.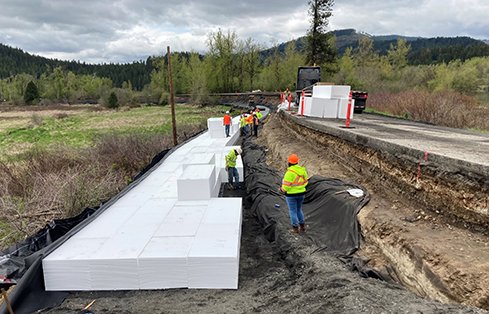 ITD quickly realized that a traditional approach to roadway construction wasn't feasible for this project, in part because of the road's location on the levee and proximity to the St. Joe River. Widening the road from the east side would cause right of way issues and increase costs. Building on the west side (near the river) brought settlement and slope stability concerns thanks to soft soils and a high water table. The team needed a strategy that would allow them to build closer to the river without the increased settlement and stability risks caused by heavy fill material. That's where Geofoam comes in.
EPS Geofoam is a lightweight synthetic fill material that can be used as an alternative to soil and other traditional fill. It provides structural stability in many engineering applications without adding significant weight, and the GeoEngineers team recommended using it in an MSE wall adjacent to the river. By including EPS Geofoam in the roadway design, ITD could avoid costly right of way acquisition and build closer to the river—without slope stability or settlement risks.
Construction began in April and SH-3 reopened to traffic in mid-October, despite wet weather and other complications during the summer.