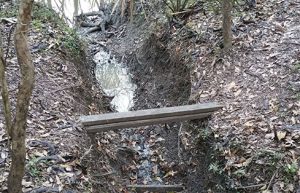 As an Eagle Scout and current Boy Scout leader I am always on the lookout for opportunities to improve my community. Often situations where a small improvements are made, such as adding a bench to a community park or updating a sign for a local nonprofit, can make a big difference. Earlier this year our troop went hiking on a local Baton Rouge Parks and Recreation (BREC) trail. We had people of all ages join us from small children to a few elderly folks. Even though the trail was supposed to be fairly easy to complete, we came across some deep drainage ditches that had to be crossed. A few people who joined us had trouble crossing the ditches because of muddy and steep slopes.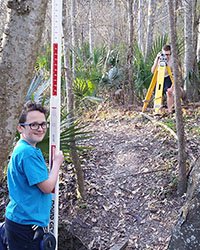 Our troop realized that it would only take a simple pedestrian bridge to make the trails more accessible. It was perfect timing for us because my son, Daniel, had been looking for opportunities to complete his Eagle Scout project, which is a project designed to teach scouts how to be a leader while making an impact in the community. After we realized what a great opportunity this would be, my son contacted BREC and presented his idea. They agreed that a bridge was needed and we were able to proceed with developing a design and then constructing the bridge.
Because an Eagle Scout Project is to be planned and led by the Eagle candidate, Daniel asked me to help him learn how to design the bridge. It was my duty to help him become a leader through practice. Fortunately, I have some experience with designing and building bridges. First, we were able to use some of GeoEngineers' survey equipment to measure the ground elevations below the proposed bridge centerline in preparation for designing the bridge. I then showed Daniel the things that should be considered and the calculations to determine the size and structure of the bridge.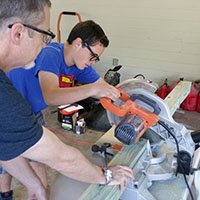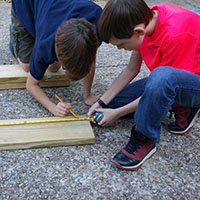 With my guidance Daniel developed a design for the bridge and submitted it to BREC for their engineers to review, and then to the Boy Scout Council. After approval, Daniel obtained donated material from Home Depot and then scheduled a date to meet with our troop at the park and build the bridge.
Daniel did a great job planning and leading the design and construction of this pedestrian bridge for BREC Parks. After a lot of heavy lifting, water and mosquito spray (the bridge was located on a trail next to a bayou and swamp area) the completed bridge is now ready for more BREC nature hikes.
Getting involved in your community is more than finding problems and fixing them, it is also showing others how to do the same. We should be infectious with everything we do, plan good service and inspire others to join in doing them also. This way, we can make one good action turn into several.