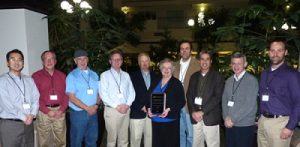 The American Society of Civil Engineers (ASCE) Region 8 has honored the Tonquin Avenue Bridge Project with the Minor Project of the Year Award. This ASCE award recognizes the top project completed in 2011 with a total constructed value of less than $10 million that improves the quality of life of people affected by the project, contributes to the project area's economic development and demonstrates environmental responsibility by incorporating sustainable development practices.
The award winners were announced last June, but formal presentation of the award awaited the banquet and award ceremony held on December 12th, 2012 in Tukwila (WA). Several members of GeoEngineers' team were there to accept the award with AECOM staff who led the project and Crystal Dingler, mayor of the City of Ocean Shores, Washington.
The Tonquin Avenue Bridge is located in Ocean Shores, a coastal town in southwestern Washington State. In 2006, the 40-year-old timber bridge over Lake Minard Canal was closed by the City because its pilings were failing and its timbers were rotting. In 2008, the City received funding through FHWA and WSDOT local programs to replace the old bridge, which had been a part of the coastal communities' tsunami escape route.
GeoEngineers worked with AECOM to provide geotechnical engineering and environmental permitting services for the project. In the process, GeoEngineers furthered the project objectives of minimizing project costs and lessening impacts to the environment and to the public during bridge construction.
Pictured in the photo above (left to right): James Chae, ASCE Seattle Section President; Attila Laszlo, Lead Civil Engineer; Leroy Clark, Resident Engineer; Garry Squires, GeoEngineers; Richard Patterson, AECOM Project Manager; Crystal Dingler, Mayor of Ocean Shores (holding plaque); Lyle Stone and Bruce Stirling, GeoEngineers; Millard Barney, Concrete Technology Company; and Douglas Knapp, ASCE Region 8 Governor.