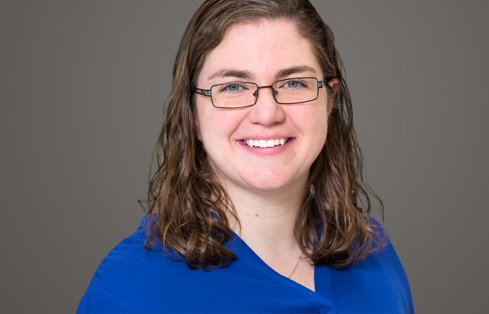 Amy Blomeke
PE
Senior Geotechnical Engineer
I told my dad that I wanted to be an architect in 7th grade. He said, 'No, you should be an engineer!'
Practices
Amy Blomeke is a critical part of our growing Boston development team. Urban development sites are often hiding unexpected risks in the form of geotechnical or environmental issues. Amy helps our clients identify and quantify those risks and then recommends foundation designs and other strategies to mitigate them.
Growing up, Amy was interested in architecture, but she vividly remembers what her dad thought of that idea. It was his suggestion that sparked Amy's redirect toward a career in engineering.
"I told my dad that I wanted to be an architect in 7th grade," Amy remembers. "He said, 'No, you should be an engineer!'"
Amy has been honing her expertise in geotechnical and environmental engineering in the Boston development market since 2010, where she worked for several professional consulting firms before joining GeoEngineers. Beyond her technical expertise, Amy takes her business and staff development responsibilities seriously. She was attracted to GeoEngineers for the chance to build something new with respected friends and dynamic new team members.
"Together we are building an amazing group of people," Amy says, "and we are taking on interesting and complex projects all throughout New England."
Amy enjoys spending her free time with her husband and their beloved dogs. On the weekend, you might find her on the golf course or at home tackling her most recent home renovation project.
University of New Hampshire Civil and Environmental Engineering Department Advisory Board Member (Fall 2020 – Present)
CREW Boston Charity Golf Committee Co-Chair (2019 – Present), Development Project Management Group member and Meds and Eds Group member
CREW Boston Ambassador
CREW Boston Esprit de Coeur Award recipient (2021)
ACEC Odyssey Leadership Program (2020-2021)
Blomeke, A.C, House, R.D., and Sadkowski, S.S. "Design and Construction of High-Capacity Spread Footings over Post-Glacial Compressible Clay Deposits: Two Case Studies in Massachusetts". International Foundations Congress and Equipment Exposition, Orlando, FL. March 5-10, 2018.
Larrabee, A.C., Benoît, J., and Reiffsteck, P. "Profiling Hydraulic Conductivity In Situ". Proceedings of the Fourth International Conference on Site Characterization ISC-4, Porto de Galinhas, Brazil. September 17-21, 2012.